Never Use Paper Release Forms Again
Get the fastest and most effective release form software, built for the needs of video production.
ReleaseME is a groundbreaking release and contract management system that offers the speed and simplicity that video teams need to move at the increasing pace of production.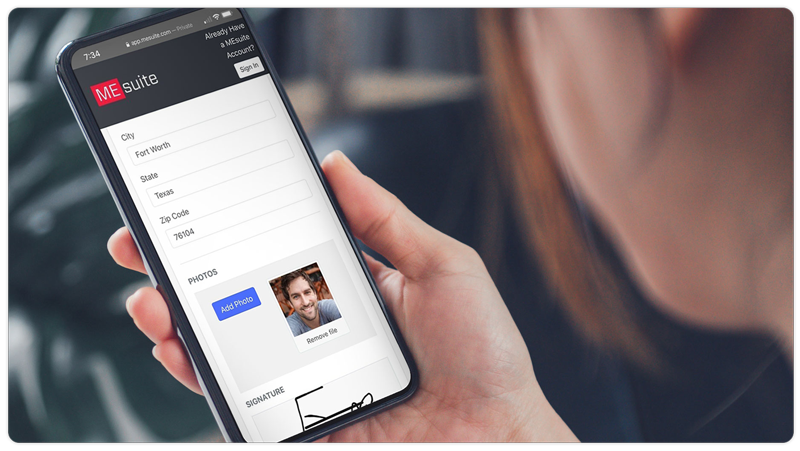 Highlights
Create custom release forms and contracts fast.
ReleaseME's simple contract builder enables anyone to create custom digital release forms and media contracts in minutes. Whether you need an appearance release, location release, material release, or any other kind of contract, ReleaseME allows you to build digital release forms quickly and easily. Pre-built release templates guide you through the process assisting you so that you get exactly the information you need from signers. Offline mode ensuring you get releases signed regardless of how off the grid your crew is.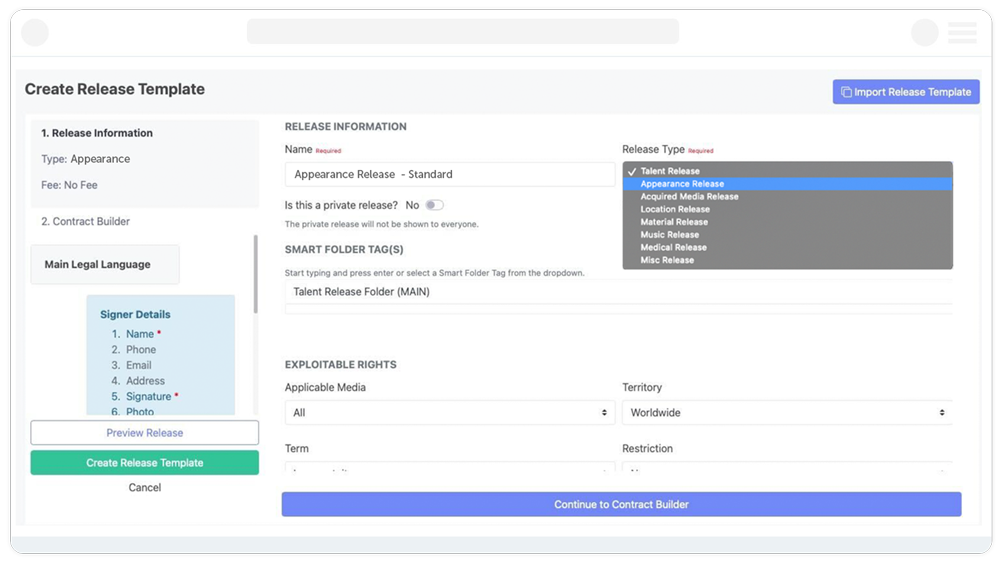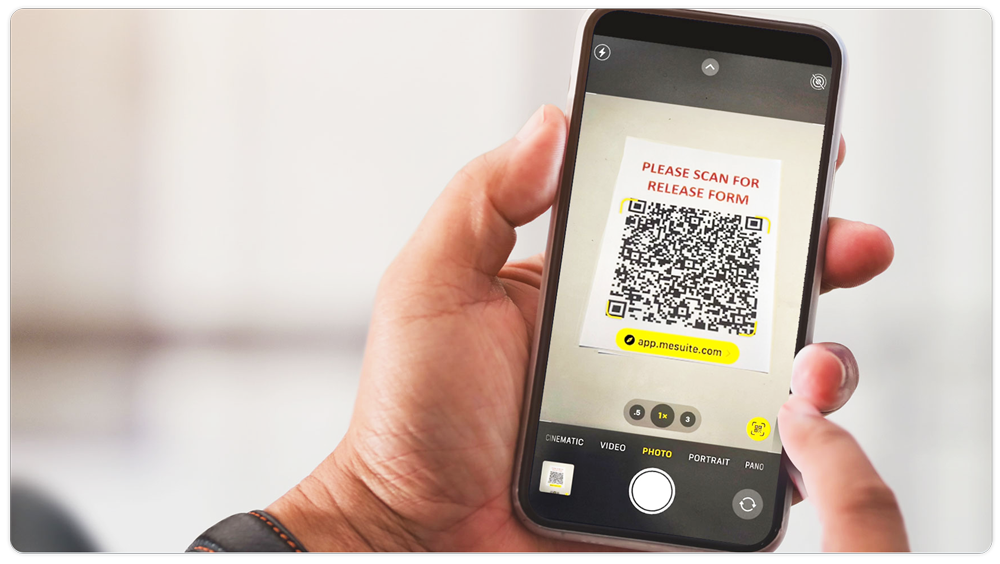 Get hundreds released at the same time.
Releasing hundreds of people by posting a QR code in a clearly visible location is fast, accurate, and easy. Avoid production delays by speeding up the process of signing digital release forms and media contracts via ReleaseME's contract QR code generator. Never need people to wait in line, grab a pen and paper release, and take a photo again. Deploying a digital release form is as simple as downloading the QR code from ReleaseME and posting it wherever you need releases signed. Need to pre-release people? Thanks to ReleaseME, you can send the digital release form via email.
Upload, store, and organize releases.
ReleaseME dynamically uploads and organizes signed digital release forms and media contracts in the cloud, eliminating paper and empowering you to quickly find the release you're searching for. Every signed digital release form can be tagged with additional metadata, such as shoot location or scene number, and moved into smart folders, allowing you to always find the release you are looking for. When the video project is over, ReleaseME allows you to download all the signed digital release forms with one click of a button. You can even download a spreadsheet containing a log with all of the signed releases within a project.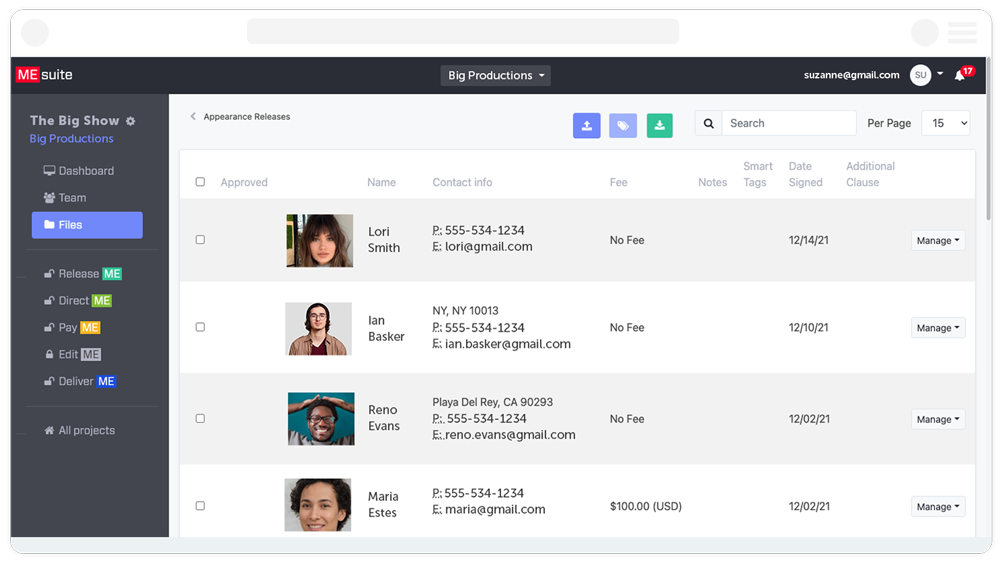 vs the Competition
| | | Paper | Docusign | Easy Release | Adobe Sign |
| --- | --- | --- | --- | --- | --- |
| Instant Rights and Clearance Organization | | | | | |
| Dynamic Mass Releasing | | | | | |
| Photo Embedded to Release | | | | | |
| Automated Smart Tag Labeling | | | | | |
| Post Production Integration | | | | | |
| Charged Price Per User | | | | | |
The  Network
ReleaseME is proudly used by partners like…
"Imagine being able to instantly get a production release (appearance, location, trademark, model etc) signed from a any device such as a phone, tablet or PC quickly and easily with a photo. I shot 24 location public events in Sept/Oct and ended up with 350+ releases being signed for use in broadcast/streaming. At the end of our season shoots, i was able to download all my releases to my PC in PDF format. Each release as also easily searchable by name."
—Richard Perry
Head of Production, MadLab Entertainment

Where are the releases stored once they have been signed?
-Releases are stored in your account after they have been signed, they will appear immediately after a release is signed/submitted. The releases will automatically be organized by type of release (appearance, location, miscellaneous, etc.) and date signed. There is more functionality within the cloud storage to help organize these releases. Releases can be imported and exported into the cloud storage of your account at any time.
How do we take a picture of the signee with their release if the forms are digital?
-It is possible to make a photo required for people who fill out the release. This requires the person to take a selfie or upload a photo of their face. This photo will be attached to the release throughout the entire Rights and Clearance process – freeing your post production team from matching photos and release contracts after the fact!
Can internal members of the team approve releases once signed?
MEsuite products are specialized for the unscripted industry, so there is a simple process for internal producers to approve releases after they are signed. They are able to approve these releases via signature in their account.
Can we add a guardian clause to the release?
Yes – our system has an optional guardian clause for any signees under 18 years old. ReleaseME can handle one guardian signature or the option for a second guardian signature if needed.
Can we Pre-Release people?
ReleaseME has multiple features to help get release forms signed – this includes pre-releasing people before a shoot begins.
How do we get releases signed digitally if there is no WiFi or Cell Service available?
ReleaseME has an "Offline Mode" in which releases are able to be signed if there is no cell service or WiFi. Offline Mode works internationally as well
Can we add fee based releases?
Fee based releases can be added to ReleaseME. There are two options in adding fee based releases – Dynamic Fee or Static Fee.
Dynamic Fee – a $ amount can be changed from unique signee to unique signee
Static Fee – a $ amount is permanently added to the specific release
The option to use both of these types of Fee Based Releases is available and common among our users.
What type of releases can we import into ReleaseME?
Any type of release contract can be added into ReleaseME. Currently we have template guides to add efficiency to uploading blank release templates for the following types of releases: appearance, location, materials, talent, acquired media, music, medical, and miscellaneous.
How do we add release forms for different shows?
MEsuite accounts are organized based on show/project. This allows users to add specific releases to the appropriate project – keeping release templates automatically organized by show/project.
How many users can we add?
ReleaseME allows for unlimited users to your account or specific project without any additional costs. In addition, the entire MEsuite platform allows accounts to add unlimited users without any additional cost.